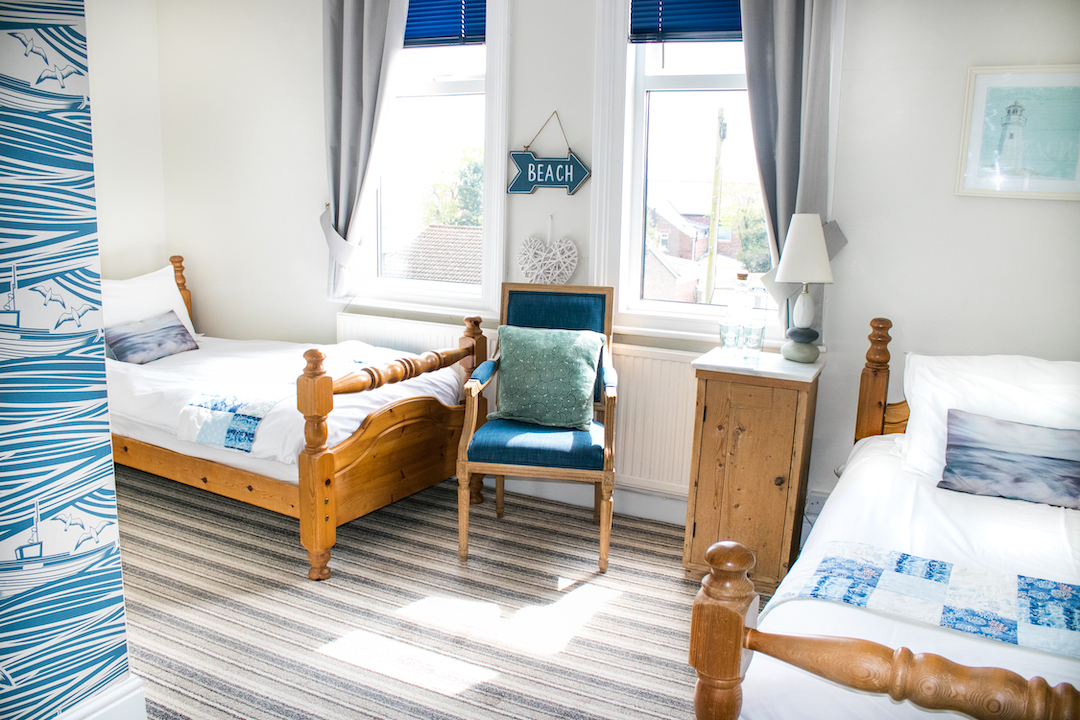 Would you prefer to contact us directly?
If so please find our contact details below, or alternatively fill out the form below and we will contact you as soon as possible.
Tel: 01947881143
Mob: 07885318999
Email: [email protected]
Address:
Lee-Side, Mount Pleasant South, Robin Hood's Bay
North Yorkshire
YO22 4RQ
Excellent hosts. Excellent B&B.
"What a lovely little spot to stay over. Beds were super comfortable, shower clean and hot. Parking restricted as always is in robin hoods bay. Breakfast was amazing good quality food and catered for my coeliac needs. Milk available from fridge for your coffee and tea in the room. The owners were so lovely and friendly."
- Angela R, TripAdvisor
Fabulous
"My partner & I stayed for 2 nights at the end of April. Everything was 5 star, location, rooms, comfort, food & the service. Claire couldn't do enough for you, welcome, friendly & kind. Definitely stay here again if we return. Good choice at breakfast, included scrambled egg & smoked salmon & croissants on offer afterwards. I had a bad back & our room didn't have a bath but when one became vacant Claire let me have a bath in a wonderful old enamel slipper bath, it was fabulous. Highly recommended"
- Gwen B, TripAdvisor
Can't wait to visit again
"Our first stay was Sept 2016 and our second stay April 2019. Nothing is too much trouble for the amazing hosts Claire and Nigel, from accommodating our 1 year old, tea and cake on arrival, superb breakfasts, spacious, great recommendations of local area and wonderfully decorated rooms! 
Thank you! 
We will be back for a 3rd, 4th etc visits!"
- Sherrylee M, TripAdvisor
Excellent stay
"Stayed with my partner and our two dogs for 2 nights and absolutely loved it. My partner had rung up to ask about the dogs being allowed to stay (which they were as they're very quiet) and was also given a better deal for ringing.
The hosts were really welcoming and friendly. The room was stunning, tastefully decorated, clean and really big. Both breakfasts we had were really good and we were offered even more food after. We felt very well looked after and will definitely be back."
- Drew S, TripAdvisor
Beautiful vacation
"Visited Lee side as part of a three day walking holiday with my son and daughter. We had two days at Lee Side and enjoyed every minute. Clare was a great host who looked after us extremely well. We were fortunate to have great weather and so enjoyed the easy stroll to the pubs and restaurants nearby after our day's walk. Couldn't fault the accommodation, food and friendly hosts."
- David T, TripAdvisor
Exceeded all our expectations
"We booked one night at Lee Side where we met up with friends to overnight prior to a trip on the North York Moors Railway the following day. Claire and Nigel were perfect hosts, providing a choice of rooms and explaining everything we needed to know about the accommodation and also offering information about local restaurants and pubs. Rooms were spotless including the lounge areas. We were given coffee and cake as we arrived. As a nice touch, they provided complimentary port and sherry if we wanted it. A wide range of choices were available for breakfast and we ate a hearty meal before going on our way the following morning. This will be our first choice of accommodation as and when we return to Robin Hoods Bay."
- Yorkshire Visitor, TripAdvisor
Wonderful, thank you
"A jewel in the crown on robin hoods bay. Well worth a visit. The hosts are friendly and welcoming. The rooms are clean and tidy and the Prices are good for the area.
Topped off by a great breakfast. 
Please add to your bucket list."
- Richardo, TripAdvisor
Very nice stay
"Conveniently located in a side street close to the town centre, post office and bus stop. Owners were very friendly and helpful making us feel welcome upon arrival. Spacious, well-equipped en-suite bedrooms made for a comfortable stay and I would be happy to stay there again."
Amazing find
"
This B&B is an amazing place to stay. Our beds were the comfiest I've ever slept on. The cleanliness was top notch. The breakfast was superb. There was even a bottle of baileys in the lounge on the coffee tray to help yourself. Claire was so welcoming. She'd helped me to pull off a surprise stay for my friends 50th Birthday and left a bottle of bubbly in the room. I will definitely be returning with my Husband"
Little gem
"
What an absolute gem of a place. A surprise night away with my friend for my birthday. This beautiful B&B is at the top of Robin hoods bay. There is parking along the road but it's only across the road from the pay and display car park. We had a twin room that was large and spotlessly clean. Every detail was covered. A well stocked hospitality tray. Fresh water with Lemon, teas, coffees and biscuits. The large bathroom has all the toiletries you need. A very warm welcome form our lovely host. The delicious breakfast was fresh and tasty. I would highly recommend and look forward to returning."